Why a Stay at Home Mom Decided to Create a Site on Kids Bible Lessons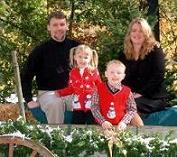 Hi...My name is Beth Rimstidt and I'm so glad you decided to check out my website. I want to tell you a little about myself. I am a stay at home mom of two young children. Several years ago I noticed my oldest child began memorizing bible stories or Christian songs he had heard. This got me thinking about my childhood. What if I had been exposed to these types of resources from the beginning? What could I have accomplished for the Kingdom of God today if I had buried God's Promises deep in my heart? I knew I wanted to help other parents teach their kids about God's Heart and Character. What kids learn at an early age stays with them as they grow into adults. I also knew in my heart staying home with my children was the right thing but just like many other one income earning families we were struggling financially.
As a stay at home mom of two very active kids I knew I needed a flexible part time job that allowed me to work when I had time(which some days doesn't exist!). I'm sure you have been there, the kids need fed, transported to activities, loved on and the daily household responsibilities are sometimes too overwhelming to throw a part time job into the mix. God loves us and surely he doesn't want his dear daughters going crazy trying to juggle too much.
My husband also did not want me working the few hours he was home because we rarely saw each other with his long work hours. Plus... how many jobs can you work part time and contribute substantially to your household income? As I found out, even with a college degree- not many. There has got to be something out there for stay at home moms who are trying to do the right thing!
What I found was the answer to my prayers. As I was sifting through the "home business opportunies" for the gazillionth time in 5 years I became frustrated. All of them promised money if you invested your time and money. Some even seemed credible. I even knew friends who were making some money from selling cosmetics/skin care products, candles and kitchen gadgets through MLM companies marketed through home parties. However, I also knew they were at the mercy of their clients and had to leave their homes often to 'make a sale'. This just wasn't an option for me.
There was also something vital missing from these opportunities for me: passion, excitement and interest. Basically I just didn't care about these products and my entire selling process hinged on my excitement about a product that I would have to pretend to be excited over.
I knew deep down that God had given me a special gift and wanted me to succeed using my talents. He has given you a special gift and unique interests too. You can take those passions and build a business on them! Experts say that one of the biggest reasons people fail at new businesses is due to lack of passion. Think about it, the odds are already stacked against us from the beginning, in terms of finding the time, money etc to make it work. If you aren't totally passionate about your business venture, chances are you won't stick with it and continue plugging away when the going gets tough. Anything worthwhile takes time and Get-Rich-Quick schemes don't work.

As a stay at home mom, I felt the pressure to contribute financially. We were foregoing lots of things that I felt we needed-not just wanted. I had tried several home business opportunities and failed. I had however been praying for God to show me a legitimate business I enjoyed and felt that he would honor me and provide this for me. I failed some opportunities due to a lack of support or mentoring, others due to lack of interest and boredom. So... when I came across SBI, I was definitely not convinced. Many companies promised lots of money if you work the business. The only problem is they don't give you a blueprint to follow step by step or they fail to provide free support to encourage and advise when things are slow. The company I built this website through promised me this:
"You don't need to know a thing about web design, HTML, internet marketing, or search engines... Instead we give you all the tools and teach you everything you need to know so that you can confidently build a website that ranks among the top 3% of the most visited sites on the internet". I still wanted more proof so I read some case studies of normal everyday people who were using the internet to tell others about what they love.
Click here to read some case studies For a country girl who didn't know HTML from search engine optimization, this offer seemed good...but didn't answer the all important question. Can I build a business about a subject I love and am passionate about? I began researching this company and found one thing in common among all the heavy hitters on the internet; they all used this same company as a web provider. This web host company also promised $5000 in cash to anyone who can show them a better hosting service with better(or comparable) traffic results for their clients websites. So far, nobody has found one. Everything sounded good so far but being skeptical of promises from companies I still had two major questions:
1) How much $$$ would this cost? (I didn't even want to look ;)
2) Can I build a site on something I know about, enjoy and am interested in(and make money at the same time?) Because having to build a website about something that would make lots of money but didn't interest me probably wouldn't last for me!
I found the answer to both of these questions. Believe it or not, this company allows you to call current owners of websites hosted by them. And you can call as many times as you want, but best of all they are not hard core salesmen trying to get a sale. They are ordinary people just like you and me who took the plunge and started a web business with little to no experience. Click here if you have questions So here I am taking this site concept I'm passionate about and not only using the material I write about to teach my own kids but to help other parents through the power of the internet and make some money in the meantime.
And yes, if you do a search for child bible lessons in Google, I'm listed on the first page, but not because of anything I did- they showed me exactly what to do thank goodness. The best part is that I don't have to physically sell stuff, because they've shown me how to get around that and it's fully automated. So it works around the clock even when I don't have time to check on it.
I know you have gifts,talents and dreams that have been buried under the weight of responsibilities or naysayers. I've never felt comfortable recommending any company to friends and family wholeheartedly. Being a Christian, I know how hard it is to find reputable companies who operate with integrity, honesty and over deliver on their promises. Without reservation, I can recommend this company to you and know that if you follow the blueprint they provide-anyone can succeed. Believe me if someone as techie challenged as I can~ absolutely anyone can!

God has created each one of us in his image, fearfully and wonderfully. But each of us has different abilities and interests. Maybe your haven't found your particular passion in a ready made home business? Well, if not, that's OK because I didn't either. I framed a business around my unique interests. You may be an expert on planning children's birthday parties- several other's have taken this concept with SBI's help and are making a five figure income by recommending birthday party supplies. Or maybe you enjoy helping other moms organize a timetable for their kids extracurricular activities or have found a way to turn kid's onto music. Whatever your passion, when you lock in on your unique gifts and form a web business on these, partnering with a company that actually cares about your success, you can't help but succeed.
I have found the answer to my prayers. I truly believe that you are reading this because you too have prayed for God to show you a financial path to help support your family without sacrificing family time. I pray that you succeed in whatever path you choose. Here is a link to this company should you wish to find out more:
Click here to learn more Should you wish to contact me, please do so via the "contact" button on the menu and leave your information as well as your request.